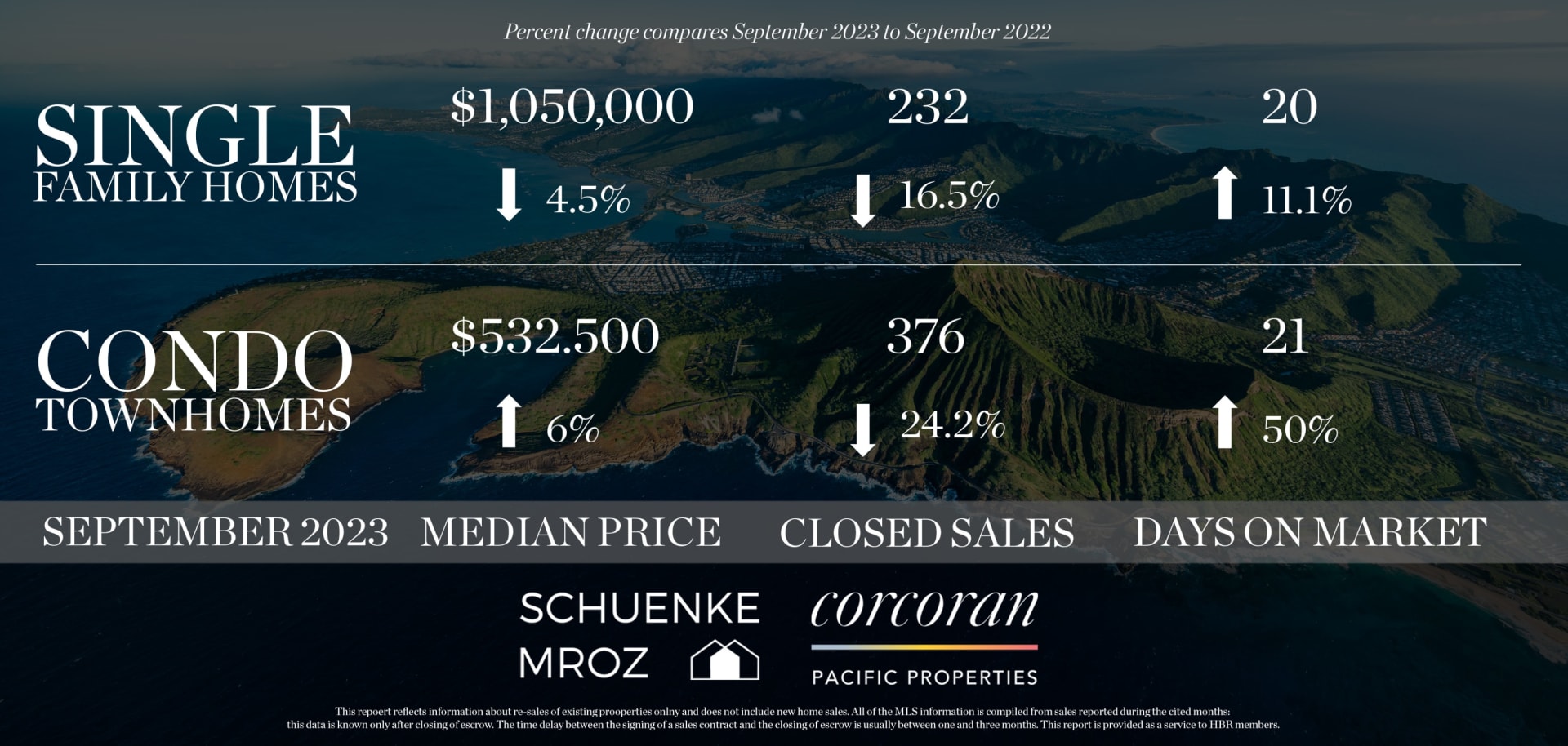 Please email us if you'd like a full copy of the monthly stats.
The Oahu single- family home market maintained a 12-month rolling average of over 200 sales, with 232 properties sold last month, reflecting a year-over-year decline of 16.5%. However, the condo market 12-month sales average fell below 400 sales for the first time since January 2021. 376 condos sold last month, marking a 24.2% dive in sales volume compared to September 2023.
In September, the median sales price for single-family homes dipped by 4.5% compared to the previous year, reaching $1,050,000 by month-end. Meanwhile, condos experienced a 6.0% year-over-year increase, with a median sales price of $532,500.
Properties that closed in September spent around three weeks on the market, with a median of 20 days for single-family homes and 21 days for condos.
Approximately 9% of single-family home sales closed at full asking price, while 38% sold above original asking price. Meanwhile, 22% of condo sales received full asking price and 20% of condo sales closed above the original asking price.
Single-family home sales in the $700,000 to $999,999 price range accounted for 36% of the month's transactions, with most sales in this price range occurring in the 'Ewa Plain. In the condo market, sales volume increased at higher price points and decreased in more affordable price ranges. The $900,000 to $1,999,999 range was the only price point to experience an increase in sales, jumping 31.0%. In contrast, condo sales in the $200,000 to $599,999 price range plummeted by 30.2%. Similarly, third-quarter condo sales in the $900,000 and above range increased by 3.9%, while sales in the $300,000 to $400,000 price range dropped by 25.6%.
New listing volume fell in both markets compared to a year ago, down 7.6% for single-family homes and 14.1% for condos.
Active inventory displayed mixed trends at the end of the quarter, with single-family homes experiencing a slight year-over-year slump of 5.9%, while condos saw a modest increase of 4.6%. In the North Shore and 'Ewa Plain regions, active inventory plunged 46.7% and 17.6%, respectively. However, the Kāne'ohe region displayed a 25% increase, adding 10 more active single-family homes compared to the previous year. For condos, most regions reported higher active inventory compared to the previous year, except for Hawai'i Kai, North Shore and the 'Ewa Plain, which offered few units available at the end of September.