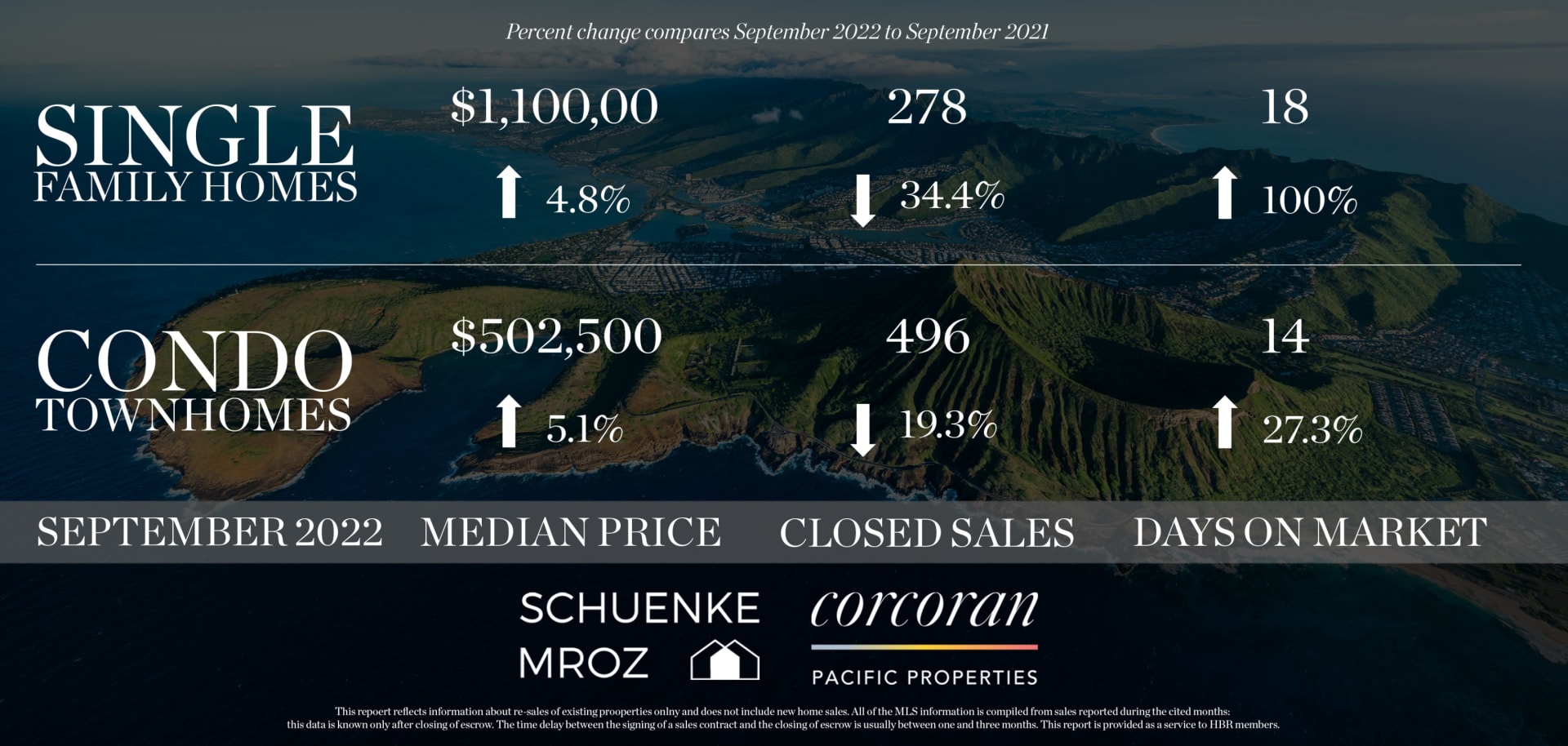 Please email us if you'd like a full copy of the monthly stats.
Rising mortgage rates are weighing on home sales. Year-over-year, single-family home and condo sales dropped 34.4% and 19.3%, respectively, and compared to August 2022, single- family home sales were down 11.5%, while condo sales dipped 2.4%. Pending sales activity was also muted compared to last year, with contract signings falling 43.7% for single-family homes and 30.7% for condos.
Median sales prices remained relatively flat over the last several months and saw a slight bump up compared to the same time last year. In September, the single-family home median was $1,100,000, up 4.8%, while the condo median sales price was $502,500, a 5.1% increase from a year ago.
New listing volume continued to fall, declining 26.2% for single-family homes and 18.6% for condos from a year ago. However, properties are spending more time on the market. The median days on market for single-family homes rose to 18 days, compared to 9 days in September 2021, and condos marked 14 days in September, compared to 11 days during the same period last year. Although active inventory increased, up 43.9% and 10.8% for single- family homes and condos, respectively, it is approximately 40% below its 2019 pre-pandemic level.
Fewer single-family homes and condos are closing above the asking price, with 36% of single- family homes sold above the original offer compared to 64% in September 2021 and 29% for condos compared to 40% during the same time last year.
Overview of third quarter stats
The third quarter of 2022 ended with sales well below the same period in 2021. Quarterly sales fell 27.9% for single-family homes and 22.4% for condos. Year-to-date, the shift in affordability has had a greater impact on the single-family home market, with sales down 15.8% from a year ago. The condo market is slightly trailing 2021 sales, with sales down 3.3% year-to-date.
The Q3 median sales price in most regions remained elevated from one year ago. However, the rise in median sales prices appears to have slowed or perhaps even reversed course in some areas. In the single-family home market, compared to Q2, the North Shore region saw a 15.1% decline, the Diamond Head region was down 12.8%, and the Leeward region dropped 10.5%. In the condo market, the Makakilo region saw the greatest decline in median sales price, down 7.8%, from Q2.
Compared to the same period one year ago, new listing volume in Q3 was down 20.1% for single-family homes and 14.0% for condos.