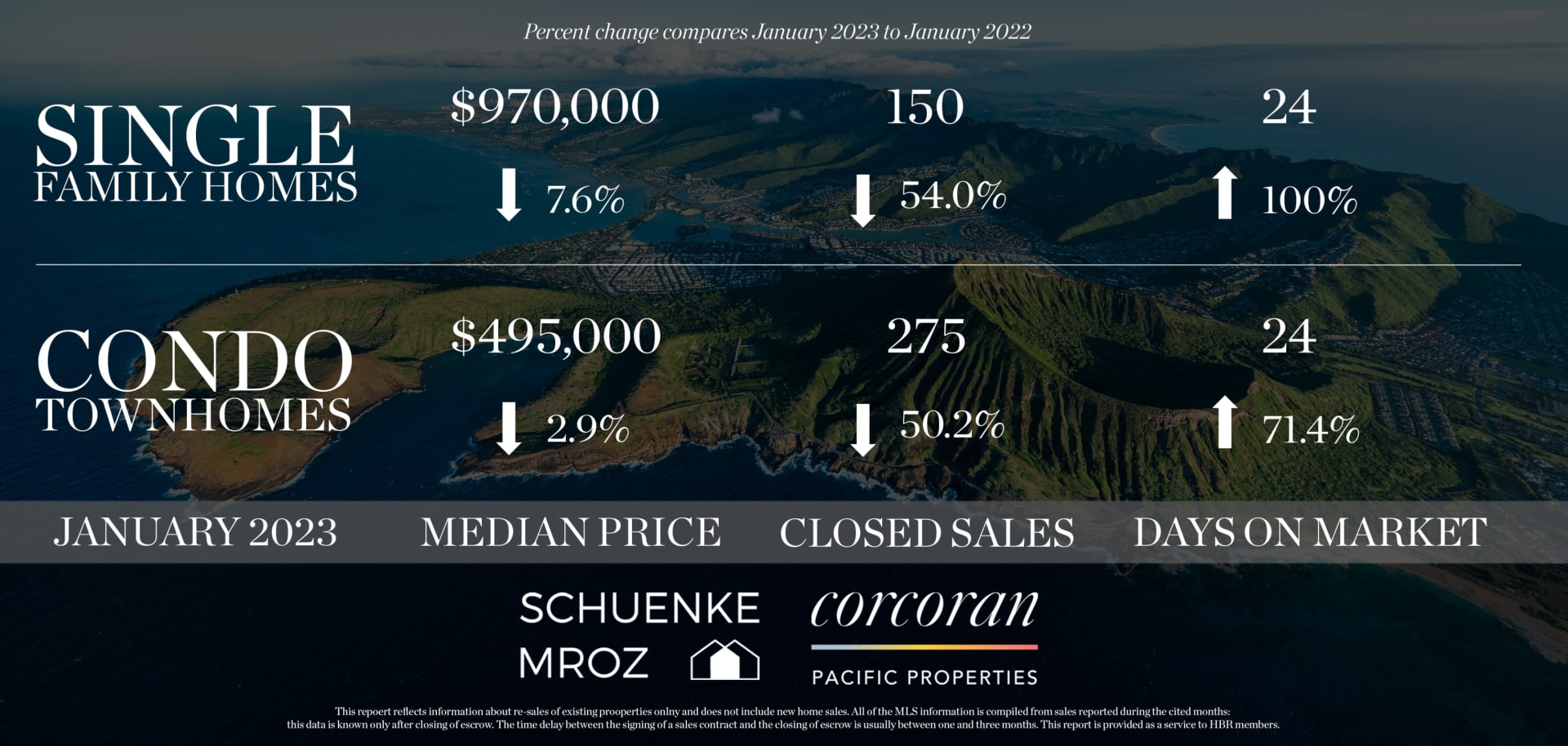 Please email us if you'd like a full copy of the monthly stats.
The new year begins with closed sales of O'ahu properties falling significantly year-over-year, with single- family homes dropping 54.0% and condos declining 50.2%. After 17 consecutive months of single-family home prices reaching $1,000,000 or more, January ended with a single-family home median sales price of $970,000, representing a 7.6% decline compared to January 2022. The condo market also saw the median sales price dip 2.9% to $495,000.
At the end of the month, average mortgage rates continued to hover in the low 6% range, which is roughly 2.5 points higher than this time last year. Month-to-month mortgage rates drifted slightly down, and as the holiday season came to a close, pending sales picked up. However, the number of contract signings decreased year-over-year, falling 15.2% for single-family homes and 34.1% for condos.
Properties are spending a median of 24 days on the market, roughly double the time compared to last year when the median for single-family homes was 12 days, and the condo median was 14 days. New listings are also slowing, dropping 16.3% for single-family homes and 21.5% for condos. Despite this, active inventory continues to grow compared to 2022, up 77.2% in the single-family home market and 23.7% in the condo market.
In January, around 37% of single-family homes closed at the full original asking price or more, compared to 73% of sales last January. The same is true for condos, where approximately 39% of condo sales closed at the full original asking price or more, compared to 57% of condo sales in January 2022.
In January, the single-family home market saw property sales in all price points decline, though the $1,500,000 and above range sustained the sharpest decline of 73.0% year-over-year. Meanwhile, condos in the $500,000 to $599,999 range represented the most significant drop in sales, decreasing 63.0%. The $100,000 to $199,999 price tier for condos was the only price range to see an increase in sales, up 26.7%.
Across O'ahu, no regions experienced positive sales growth for single-family homes, though Kāne'ohe and Pearl City marked steady sales of 16 and 14 properties, respectively, unchanged from one year ago. Most regions recorded a decline of 50% or more for single-family home sales year-over-year, with the 'Ewa Plain seeing the most significant decrease of 70.7%.
In the condo market, most sales occurred in the Metro region, though this was still a decrease in overall activity representing a 48.1% decline in sales compared to January 2022. The Central region, stretching from Mililani to Wahiawa, also experienced a substantial 60.4% decline in closed sales.
Collectively, the $700,000 to $999,999 price range in the single-family home market saw the largest increase in active inventory, with 92 more listings than in January 2022. Most regions on O'ahu experienced more activity inventory, with the 'Ewa Plain and Leeward regions accounting for the greatest share of those increases, while the North Shore recorded a 9.4% decline.
Condos marked a 23.7% increase in active inventory, though the number of active listings in the $200,000 to $399,999 price range fell 12.7% year-over-year. All other price tiers saw active inventory rise, with the $600,000 to $799,999 range increasing 71.1% and the $1,000,000 to $1,999,999 range up 56.6%